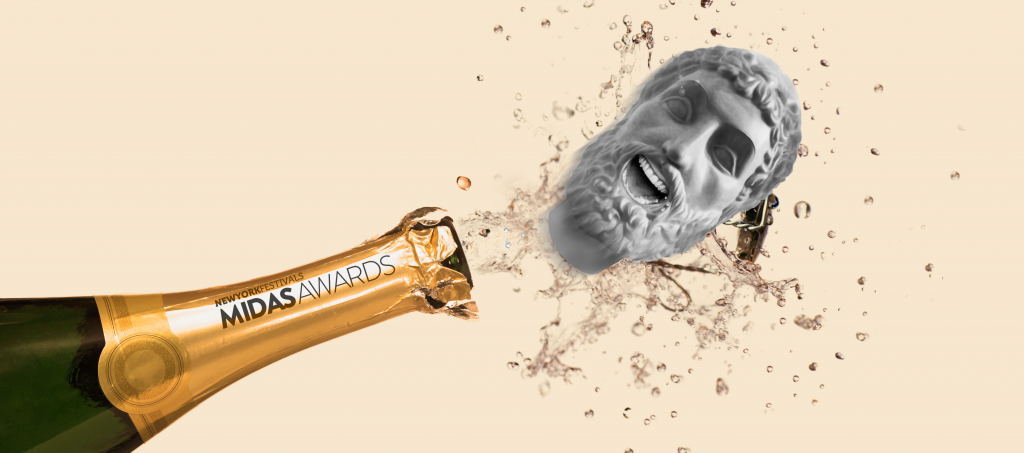 The New York Festivals Midas Awards for the World's Best Financial Advertising announced the 2018 winners. Worldwide since 2001, the Midas Awards is the only awards show to recognize excellence in financial advertising and marketing on a global scale.
With an impressive 12% increase in entries this year, the 2018 Midas Awards' Executive Jury honored entries with 1 Grand Midas Award, 56 Midas Gold Ingots, 114 Midas Silver Ingots, and 144 Finalist Certificates. For a complete list of winners visit HERE:
Futurelite AG was awarded the prestigious Grand Midas Award for "The Bellboy" for client Credit Suisse. The campaign illustrates via analogies about why the hotel director needs the lease for a new elevator and how he can get it done simple and fast home through Credit Suisse. "The BellBoy" also earned an additional 4 Midas Gold Ingots.
"It is very pleasing that our campaign for Credit Suisse and its history was so well received at the Midas Awards. The boldness shown by the Credit Suisse Marketing team is unparalleled. Once again it is the bold who win. Once again, we see that story telling is the key."—Claudio Catrambone, Director, Futurelite AG Switzerland
"Starting with the initial idea, followed by a well-thought-out concept, and outstanding realization – Futurelite's work was inspiring and top quality. Thanks to the agency's high motivation and enduring spirit, the project was a success despite a limited budget."—Tarkan Özküp, former head of Marketing Credit Suisse (Schweiz) AG, Switzerland
Campaigns from prominent agencies from around the globe earned Gold Ingots. Ingot-winning entries engaged consumers, increased brand awareness and gained market share on behalf of prominent brands via event marketing, celebrity-driven engagement, experiential and stunt marketing, technological marketing including mobile gaming, sponsorships/partnerships, personalized consumer experiences and more.
McCANN Worldgroup sp. z o.o. Poland was in the spotlight earning 7 Gold Ingots for "Business Facelift" for client Mastercard. To build awareness of Mastercard's support to SME companies and improve the quality of Polish commercial communication, the agency conducted a stunt to change the signboards on the busiest streets in Warsaw. In addition, a competition was launched to awarding those who use Mastercard technologies the opportunity to win a makeover for their storefront.
King James Group Johannesburg South Africa "Father's Share" for client Allan Gray was honored with 7 Gold Ingots for their heart-warming film, the story of a South African boy learning the value of long-term investing from his father.
King James South Africa earned 4 Gold Ingots for client Sanlam. Gold Ingot winners include: "Conversations with Yourself," a campaign that brought to life the feeling of speaking to your older or younger self about the life you've lived. "2 Minute Shower Songs," instead of making ads, Sanlam made an album that urged people to cut down on their water consumption. "200 Years Old," a scripted audio docudrama set in 2218 telling the story of a woman born in 2018 becoming the first human being to reach 200 years of age, created to take the consumer to places that cannot yet be seen. "Lives of Grace," promoted Sanlam's My Choice Funeral Plan, an interactive mobile drama demonstrated the importance of wise decision making and the its impact later in life.
TJ Worx Thailand was in the winner's circle earning a total of 6 Gold Ingots for client Krungthai Bank. "HI-SA-TI Brand" earned 5 Golds for their campaign featuring a line of fashion products with memorable product names— You-Have-Something-Similar, phrases that people might say before making a purchase. Designed to raise people's awareness about financial literacy and to be more responsible when it comes to their spending/shopping habits. The agency also earned a Gold Ingot for "The MV That Knows Where You Are".
McCann New York scored 4 Midas Gold Ingots for client Mastercard. "You Can't Judge a Book" earned 3 Gold Ingots for their music video artists who have each overcome a personal or societal barrier— from a blues-guitar virtuoso who's blind to a female Filipino rapper to a five-time GRAMMY nominee.  "Charlie's Perfect Pitch" earned a Gold Ingot, the campaign featured American singer-songwriter Charlie Puth demonstrating his perfect pitch before an exclusive JetBlue Card cardmember Priceless concert.
McCann XBX was recognized with 3 Gold Ingots for client OppenheimerFunds. Double Ingot winner "Global Campaign" for Oppenheimer Funds Global Campaign challenges a hot-button issue and aims to show investors a whole world of opportunity, "5 Senses/Get Smart/Cowboy"
R/GA Sao Paulo's "Bank next: Swamp or Lolla" for client Banco Bradesco earned 2 Gold Ingots for their online mobile game called "Swamp or Lollapalooza." Players had the chance to win real prizes, including free tickets to Lollapalooza.
Agencies from the United States were recognized with multiple Gold Ingots including: MullenLowe for "Nuveen: CR07 Direction" and "Nuveen: CR02 Animation" both for client Nuveen. Huge earned two Ingots for "Translator :60" for client Quicken Loans, Strawberry Frog was recognized with 2 Ingots for "The Bridge" for SunTrust Foundation, and Groupe Connect saw "Friends Again" earn 2 Ingots for client Bank of America.
Global agencies striking Gold include: Publicis, USA "THE CITI MOBILE® APP" for Citi; Zulu Alpha Kilo for Interac Association, Canada; "The Musician" for FCB Africa (Pty) Ltd, South Africa for "Swiish Music Video" Absa Card Usage; McCann Sydney, Australia "Tap for Your Town" Mastercard; WHITE64, USA "King" PenFed Foundation Mortierbrigade Belgium "A Mascot For The Red Devil" ING Belgium; POL, Norway "The Ripple Effect Generator" DNB; 303 MullenLowe, Australia, "Invest in the World's Best" for Magellan; Decoded Advertising, USA for "Money is Changing" Visa; Superunion, Germany "Turn Something Boring Into Something Happy" for YUNAR; and Rahofer Werbeagentur Christian Rahofer GmbH, Austria "Palfinger Annual Report 2017: "The future is: whatever is imaginable" for client PALFINGER AG.
The results of the juries are parsed in an annual rankings brief, The Midas Report, —a veritable who's-who in the world of financial services advertising that includes the 3 individual reports: Agency, Brand, and Network.
Midas released the 2018 Midas Report, a yearly ranking of the most successful global agencies, brands and networks according to their achievements in the Midas Awards.
Congratulations to the outstanding, advertisers who earned a spot on the Midas Report, and to the agencies and networks whose campaigns were worth their weight in gold.
2018 Midas Report:
BRAND
Mastercard

HSBC

OppenheimerFunds

Allan Gray

Krungthai Bank

Citi

Absa Corporate and Investment Banking

State Street Global Advisors

Bank of America

Nuveen

 COMPANY
McCann New York

Grey Group Hong Kong

FCB Africa (Pty) Ltd

McCann XBC

King James Group Johannesburg and McCANN Worldgroup sp. z o.o.(tie)

CJ WORX

Mortimer Harvey

Groupe Connect

MullenLowe

Futurelite AG and King James (tie)
NETWORK
McCann Worldgroup

Publicis Worldwide

King James Group

Grey Group

MullenLowe
To view the 2018 Midas Awards Winners please visit: https://www.midasawards.com/Winners/Medalists or download the PDF. To view the Midas Report, visit HERE.
About the New York Festivals Midas Awards
Founded in 2001, the Midas Awards® is the only competition to recognize excellence in financial advertising and marketing on a global scale, honoring the World's Best Financial Advertising℠ in banking, brokerage, insurance, mutual funds, credit cards, real estate, accounting, and consulting. The competition invites entries in four specific categories: Products & Services, Craft, Use of Medium, and Use of Discipline.
The New York Festivals International Family of Award Competitions…
Celebrating the World's Best Work since 1957!
New York Festivals®|AME AWARDS® 
New York Festivals®|GLOBAL AWARDS®
New York Festivals®|MIDAS AWARDS® 
New York Festivals®|ADVERTISING AWARDS® 
New York Festivals®|TV & FILM AWARDS
New York Festivals®|RADIO AWARDS
Entries to each of the competitions are judged around the world by panels of peers in their respective industries. For more information, go to www.newyorkfestivals.com.
Contact: 
Gayle Mandel
New York Festivals
Gayle.Mandel@NewYorkFestivals.com
VietnamMarcom is the country representative of  NYF in Vietnam.