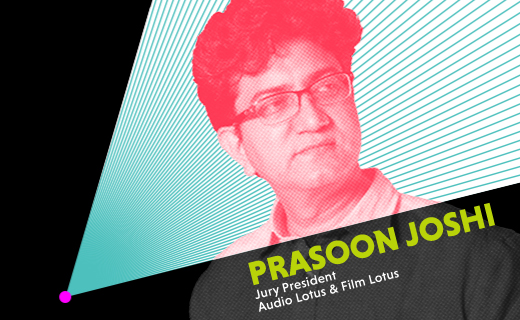 ADFEST is delighted to announce that Prasoon Joshi is joining ADFEST 2019 as Jury President of the Audio Lotus and Film Lotus categories. Joshi is one of India's most respected creative luminaries, and he completes ADFEST's line-up of Jury Presidents for 2019. 
As CEO and Chief Creative Officer of McCann Worldgroup India and Chairman of McCann Worldgroup Asia Pacific, Joshi says: "I'm delighted to be overseeing two of ADFEST's most intriguing categories: Audio, which in the midst of a major revival, and Film, which reflects the richness of local cultures in the Asia Pacific and Middle East regions. ADFEST is one of my favourite shows and a proud advocate of creativity that's inspired by local insights – it will be an honour to return to Thailand next March."
Joshi joined McCann in 2002 and has built it into one of India's most creatively awarded agencies. He helped McCann India to rank as the #1 creative agency by The Gunn Report for three consecutive years. One of this best known campaigns, 'The Happydent Palace', ranked as one of the Top 20 Campaigns of the 21st Century by The Gunn Report and was a big winner at ADFEST 2007.
Of course, Joshi's accolades extend far beyond advertising. He was twice honored by the President of India with the prestigious National Award for his socially impactful work in Cinema and the Arts. In 2015, he received the Indian government's Padma Award – one of the highest civilian honors in the country bestowed on people who contribute to Indian and global progress. The Times of India has also named him among the country's overall top 60 icons.
"Prasoon completes a truly magnificent line-up of Jury Presidents for ADFEST 2019. He played a huge role in putting India on the map creatively by creating defining work for mainstream brands that combines deep local insights with a global understanding. Time and again his work has infiltrated and inspired India's popular culture. We are humbled that Prasoon is taking time away from his many responsibilities at McCann to join our Jury Presidents at ADFEST 2019," says Jimmy Lam, President of ADFEST.
In addition to his legacy in advertising, Joshi is an award-winning writer who has authored four books – his first at the age of 17 – and is working on his fifth. He joins seven other Jury Presidents overseeing the juries for next year's ADFEST Lotus Awards:
Mark Tutssel, Executive Chairman & Global Chief Creative Officer, Leo Burnett Worldwide (Grand Jury President and Jury President of the Branded Entertainment, Effective Lotus and Integrated Lotus categories)

Ali Brown, Partner & Executive Producer of PRETTYBIRD in Los Angeles (Jury President of Film Craft Lotus and New Director Lotus)

Ali Rez, Regional Creative Director at BBDO Middle East & Pakistan (Jury President of Design Lotus & Print Craft Lotus)

Kate Hyewon Oh, Chief Creative Officer at Cheil Worldwide Inc. in Seoul (Jury President of Brand Experience & Engagement Lotus & Direct Lotus)

Mitsuyuki Nakamura, Global President of dentsu X, London (Jury President of eCommerce Lotus and Media Lotus)

Natalie Lam, International Executive Creative Director (Jury President of Interactive Lotus & Mobile Lotus)

Yang Yeo, Asia Pacific Creative Kaiju at Hakuhodo Inc., Singapore (Jury President of Outdoor Lotus & Press Lotus)
ADFEST is a non-profit-making entity that nurtures and supports the creative industry in the Asia Pacific and Middle East regions. It is accepting entries to the 2019 Lotus Awards until 18th January.
ADFEST 2019 will be held at PEACH Royal Cliff Hotels Group, Pattaya, Thailand from Wednesday 20th March to Saturday 23rd March. For more information, visit www.ADFEST.com