New York, NY – February 1, 2018: New York Festivals® International Advertising Awards® has added 14 additional  members to the 2018 Executive Jury, bringing the panel up to 35 members from 17 countries. The Executive Jury, an elite panel of Global and Regional Chief Creative Officers will meet in New York City on April 20th to Monday, April 23rd to select the World's Best Advertising®.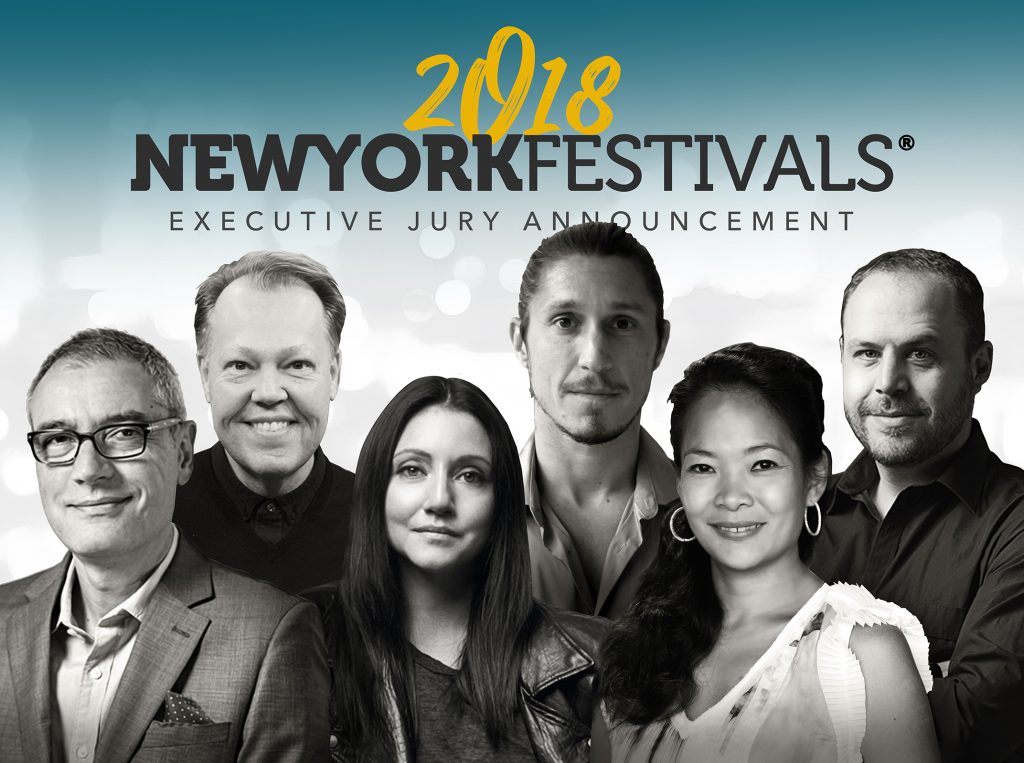 "Never before has New York Festivals assembled an Executive Jury of this magnitude and executive leadership level," said Michael Demetriades, President and Executive Director, New York Festivals. "NYF's world-class Executive Jury has a 360-view of global creativity and through four rounds of judging they will determine the 2018 World's Best Advertising award-winners. The work chosen as trophy winners by this highly acclaimed creative group truly deserve the accolade bestowed upon it." 
Additions to the 2018 Executive Jury:
Cam Blackley, Chief Creative Officer, M&C Saatchi, Australia
Cosmo Campbell, Chief Creative Officer Canada, DDB, Canada
Javier Campopiano, Chief Creative Officer, Saatchi & Saatchi NY, USA
Cindy Yan Chan, Partner/Chief Strategy Officer, Focus Media Group, China
Andy DiLallo, Chief Creative Officer, TBWA Sydney, Australia
Ralf Heuel, Chief Creative Officer/Partner, Grabarz & Partner, Germany
Maxi Itzkoff, Chief Creative Officer, Santo Buenos Aires, Argentina
Armin Jochum, Chief Creative Officer/Co-Founder, thjnk, Germany
Eduardo Maruri, President/Chief Executive Officer LATAM, Grey, Ecuador
Farid Mokart, Creative CEO/Chief Creative Officer, Fred & Farid, France
Britt Nolan, Chief Creative Officer USA, Leo Burnett, USA
Sunmi Park, Chief Creative Officer, Daehong Communications, South Korea
Hugo Rodrigues, Chairman & CEO, WMcCann, Brazil
Taras Wayner, EVP/Chief Creative Officer, R/GA, USA
 To view the 35 members of the 2018 New York Festivals Executive Jury, please visit: www.nyfadvertising.com/2018-executive-jury
 Since 2011, all entries into NYF's Advertising Awards competition are viewed by 400+ members of NYF's Executive and Grand Juries, a brain trust of global creative minds, who collectively cast over 300,000 votes during the two-tiered judging process. Utilizing New York Festivals patented Matrix Judging System, the Executive Jury scores each entry on its own merits with 50% of the vote based upon its concept / idea, 25% stemming from its brand and market relevance, and 25% pulled from its production execution.
All Shortlisted entries will be selected by the Grand Jury. Shortlisted (Finalist) entries, in all competitions, except Public & Media Relations, Marketing Effectiveness, Film Craft and Package Design, will be reviewed by the Executive Jury through four rounds of judging, to determine the World's Best Advertising Award-Winners.
The 2018 New York Show℠ awards ceremony and gala will take place the evening of Thursday, May 17, 2018 at the world-class performance space, Jazz at Lincoln Center's Frederick P. Rose Hall, Broadway at 60th Street, New York City.
The 2018 competition entry deadline is February 28th. For more information, please visit: Rules & Regulations and to enter the competition please visit: Here.
All press inquiries are welcome and should be directed to Gayle Mandel: Gayle.Mandel@NewYorkFestivals.com.  Ph: 1 212 643 4800
The New York Festivals International Family of Award Competitions…
Celebrating the World's Best Work® since 1957!
AME Awards® | Advertising & Marketing Effectiveness
Global Awards® | Healthcare & Wellness Advertising
Midas Awards® | Financial Marketing & Advertising
New York Festivals® | International Radio Program Awards
New York Festivals® | International Advertising Awards®
New York Festivals® | International TV & Film Awards
Entries to each of the competitions are judged around the world by panels of peers in their respective industries. For more information, go to www.newyorkfestivals.com.
VietnamMarcom is the country representative of  NYF in Vietnam.