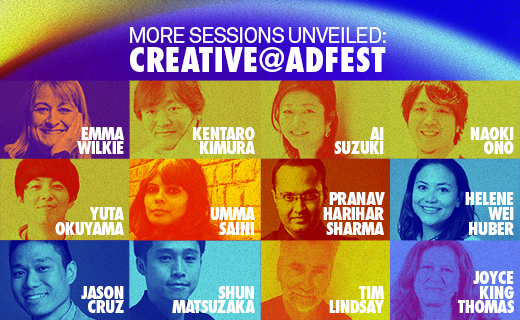 ADFEST is delighted to unveil nine more sessions as part of the Creative@ADFEST stream on 23rd-24th March 2018:
Gunn 100, presented by Emma Wilkie, Managing Director, Gunn Report, London (Friday 23 March, 11:30 am)
Emma Wilkie returns to ADFEST for the World Premiere presentation of the new Gunn 100. Expect all the league tables, all the winners, lavishly illustrated by the world's best ads that defined 2017. Emma has been Donald Gunn's collaborator and co-presenter of The Gunn Report since January 2003. Since 2016, Gunn Report has been part of WARC, the global authority on advertising and media effectiveness.
The Power of Ideas, The Power of Believing, presented by Hakuhodo Inc.'s Kentaro Kimura, Ai Suzuki, Naoki Ono and Yuta Okuyama, Tokyo (Friday 23 March, 2:30 pm)
No matter how innovative and eye opening the ideas we come up with, there are always a lot of unexpected hurdles to overcome – and recent changes to business, technology, and the media environment have been making these hurdles higher. From writing films to developing products, a panel of Hakuhodo Inc. experts will discuss how they overcome hurdles, and the secret of "Power of Believing". Kimura is APAC Co-Chief Creative Officer of Hakuhodo Inc. and Co-Chief Executive Officer & Executive Creative Director, Hakuhodo Kettle; Suzuki is Creative Producer, Hakuhodo Inc. Tokyo; Ono is Copywriter & Product Designer, while Okuyama is Creative Director at Hakuhodo Inc. and SIX Inc.
This is your last brief, Umma Saini, Creative Director, BBDO Singapore (Friday 23 March, 3.15 pm)
"Let's start backwards. Not only in terms of our jobs, but life. And in both, what holds us back is fear. What can set us free is purpose. And there is a secret to find it," says Uma Saini, Creative Director at BBDO Singapore. Saini found creative inspiration in an unexpected form – a near-death experience. She's coming to ADFEST to share what she learnt and inspire other creatives to move forward fearlessly. One of the youngest and most celebrated CDs in the world, Saini ranked No.1 Creative Director in India by Campaign Brief Asia and No.10 in the world by the Big Won Report – one of only two women on the list, and the first Indian woman to make it there.
Be Michael Corvin: A Hybrid, presented by Pranav Harihar Sharma, Executive Creative Director, Leo Burnett, Mumbai (Friday 23 March, 4 pm)
Michael Corvin is a character in the Hollywood 'Underworld' series of films, who inspires this session from Leo Burnett's Pranav Harihar Sharma. "Sabertooths and dinosaurs ruled till the ice age. But what survived is cockroaches. At any given point in time, the world is always divided into two species. But being bigger is no guarantee of a survival. There is always a third that thrives," explains Sharma, who believes hybrid creatives – who aren't limited to traditional designated roles – always have the best chance of survival. Pranav has won more than 200 national and international advertising awards. In 2015, he was chosen as one of ADFEST's Fabulous Four Directors, and in 2016, he featured in Campaign Asia's '40 Under 40′ list of rising stars.
All Guts No Glory, presented by McCann Worldgroup's Helene Wei Huber, Senior Planner, McCann Worldgroup China; Jason Cruz, APAC Lead- LIVE, McCann Worldgroup Philippines, and Shun Matsuzaka, Digital Creative Director of McCann Worldgroup Malaysia & Founder of McCann Millennials
(Friday 23 March, 4:45 pm)
If you want to make a positive change, advertising isn't the way to go – or is it? Three young up-and-comers will discuss their experiences on the uphill battle to transform the status quo. From robots, to hackers, to sassy policemen, these are just some of the ideas this trio has come up with to transform and bring meaning back into our industry. Matsuzaka is also founder of McCANN MILLENNIALS, a team of over 100 like-minded innovators based in APAC who are on a mission to transform our industry. He's behind the world's first AI creative director and a "brain-wave meditation" AI robot designed to push the boundaries of human creativity.
Why doing the right thing is also the right thing to do, Tim Lindsay, Chief Executive Officer of D&AD, London (Saturday 24 March, 10:45 am)
"Our business needs to transform its lack of diversity and senior gender balance. Social justice aside, this is because homogenised groups produce homogenised thinking," says Tim Lindsay, Chief Executive Officer of D&AD. Lindsay believes we need to look in new places for fresh talent, promote the interests of women to avoid a catastrophic talent drain and move our understanding of what constitutes creativity out of its existing narrow confines. Born in Lincolnshire and raised in Africa, Lindsay has 40 years experience at agencies including Y&R London, Lowe Howard-Spink/Lowe Lintas/Lowe Worldwide, Publicis UK and TBWAUK and Ireland. He became CEO of D&AD in 2011.
Jury Presidents Crossfire I, moderated by Brett Mitchell (Saturday 24 March, 3.15 pm)
Go behind the doors of the judging room to listen first-hand to four Jury Presidents and learn the secrets of what makes some works great, and others exceptional. The first Jury President Crossfire will feature representatives from the Design Lotus & Print Craft Lotus; Film Craft Lotus & New Director Lotus, Interactive Lotus & Mobile Lotus and Direct Lotus & Promo Lotus panels.
Jury Presidents Crossfire II, moderated by David Guerrero (Saturday 24 March, 4 pm)
Four more Jury Presidents take the stage to reflect on their favorite ADFEST 2018 winners. This panel will feature Joyce King Thomas, Chairman and Chief Creative Officer of McCann XBC (Grand Jury President and Jury President of Branded Content Lotus & Integrated Lotus); plus representatives from the Effective Lotus & Media Lotus, Film Lotus & Radio Lotus and Outdoor Lotus & Press Lotus panels.
How a 30,000 year-old medium became the most transformative idea of 2017, Joyce King Thomas, Chairman & Chief Creative Officer of McCann XBC, New York, and Grand Jury President of ADFEST 2018 (Saturday 24 March, 4:45 pm)
One of the most lauded ideas of 2017 was neither digital nor high tech. It was a statue of an eight-year-old girl who dared to look gender inequality directly in the face, on behalf of a company making bold moves against that inequality. How did State Street's 'Fearless Girl' come to be? Joyce King Thomas will shed light on how the idea evolved, why it resonated, and what agencies (and clients) need to do to make more of those ideas.