New York Festivals 2023 Advertising Awards Announces Trophy Winners; "The Air Drummer" Wolf BKK Thailand Earns Best of Show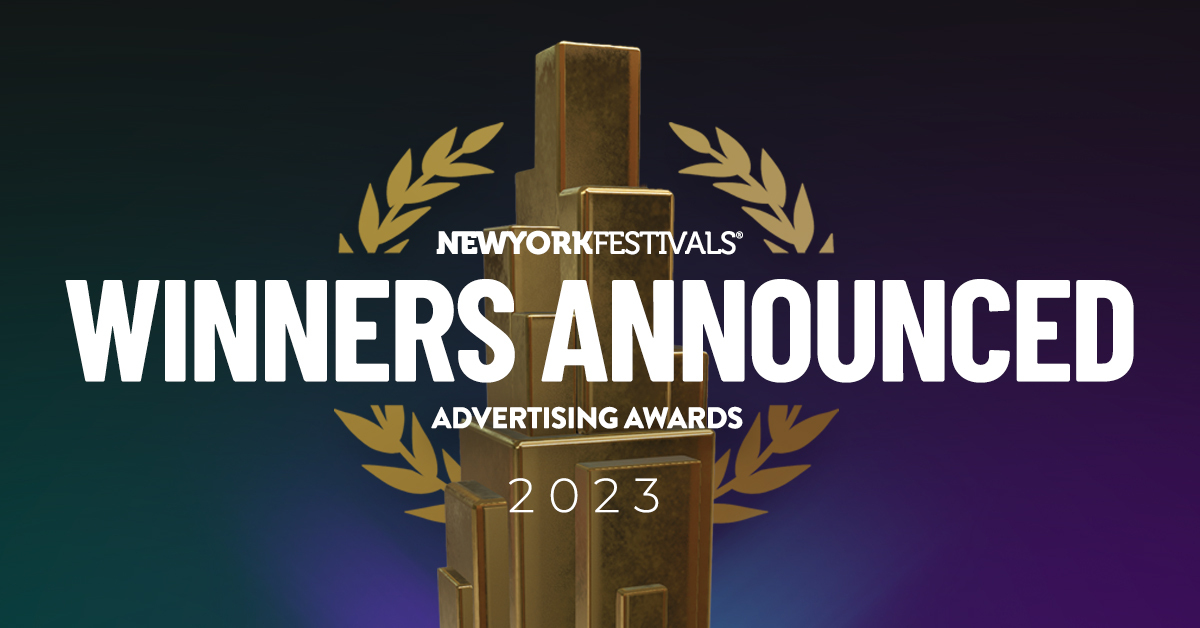 DDB Mexico SA DE CV Honored with 4 Grand Awards; Grands Awarded to BBDO Group Germany GmbH, DDB Chicago, FCB Lisboa, Promise South Africa, Saatchi & Saatchi Düsseldorf, TBWA\HAKUHODO Japan, VMLY&R Commerce USA, and Wolf BKK Thailand                                                                       
New York, NY – July 19, 2023:  New York Festivals® Advertising Awards announced the 2023 award-winners submitted from 60 countries around the globe.
The 2023 Executive Jury President, Bianca Guimaraes, Partner & Executive Creative Director for Mischief USA led this year's jury panel of internationally recognized industry executives and creative leaders who determined 2023's award-winning entries from the shortlist selected by the Grand Jury. Together NYF's jurors deliberated to award winning work within their specific categories.
The Executive Jury members honored cutting-edge work with the prestigious Best of Show Award, 12 New York Festivals Grand Awards, 120 Gold Tower Awards, 72 Silver Towers and 114 Bronze Towers.  View all the winning campaigns in the 2023 winner's showcase HERE.
The 2023 Best of Show Award
The Air Drummer" created by Wolf BKK Thailand for client Robinson Department Store earned the prestigious Best of Show Award in Film for their humorous campaign. Created for Thailand's top department store Robinson's annual Salesation, "The Air Drummer" urges Thais to "discount what they love most" and ends with a surprise twist.  Brilliant results include a sales increase by 12% from last year's promo period and total impressions of 18 million with the phenomenon spreading to China, Korea, Spain, and other countries.
"We are deeply honored to receive this prestigious award and feel immense gratitude for the recognition bestowed upon Wolf BKK for our work on "The Air Drummer," which has been awarded the best of show. We believe that commercial success should go hand in hand with helping our clients' businesses thrive.
We are sincerely grateful to the entire Wolf crew, the exceptional production team at Happy Ending Film, and, above all, our client Robinson. Their trust in our abilities and their unwavering determination to captivate the hearts of consumers has been a constant source of inspiration from the very moment we embarked on this project. With a firm belief that commercials should not only engage audiences but also contribute to our clients' business growth, we have strived to create impactful and memorable campaigns that resonate with consumers and drive tangible results for our clients."—Nopharit Dusadeedumkoeng, Deputy Executive Creative Director, Wolf BKK
New York Festivals 2023 Executive Jury celebrated 12 innovative campaigns with the 2023 NYF Grand Award for their outstanding innovation and creative execution.
ACTIVATION & ENGAGEMENT: DDB Chicago USA "Apologize the Rainbow" for Skittles
AVANT-GARDE/INNOVATIVE: DDB MEXICO SA DE CV "Data Tienda" for Gahr WeCapital
"Financial inclusion should be on the agenda of governments of developing countries and of the financial sector at a global level. Contributing ideas that help solve this problem from a small local Mexican bank makes us feel proud and happy. We hope countries around the world follow our example. Undoubtedly recognitions as important as these give us all the visibility we need and will bring us closer to that goal". – Diego Ortiz Mimo, Chief Creative Officer, DDB MÉXICO
COLLABORATIONS & PARTNERSHIPS: Saatchi & Saatchi Düsseldorf Germany "Oreo Cheat Cookies" Mondelēz Europe/Oreo
"OREO Cheat Cookies is a great example of what happens, when a great team and a great client together take a great idea to the next level. We are beyond proud that this fantastic collaboration between OREO and XBox wins big without any cheating. Woohoo," said Jan Propach, Executive Creative Director, Saatchi & Saatchi Düsseldorf.
COMMERCE AND CREATIVITY: VMLY&R Commerce USA "Oreocodes" for Oreo
"To see our work for OREO being represented at NYF is simply incredible. To have Commerce/Shopper Marketing being recognized as it evolves and leverages tech to modernize our brands and meet the evolving shopper is truly inspiring.  Ideas like OREOCodes, that put creativity at the heart of commercial intention is exactly what is needed for the future to engage, convert, and importantly build our brand with today's modern shopper." – Steve McGowan RVP, Omni Shopper Activation & Strategic Partnerships at Mondelēz International
DESIGN: FCB Lisboa Portugal "Portuguese (Re)Constitution" for Penguin Books
"Great recognition always brings great responsibilities. FCB Lisboa is very proud to bring this Grand Award to Portugal. It is further proof of the great evolution that Portuguese advertising has achieved. We will work even harder to keep the bar high in the coming years". – Edson Athayde, CEO & Creative Director, FCB Lisboa
DIGITAL/MOBILE: DDB MEXICO SA DE CV "Data Tienda" for Gahr WeCapital
DIRECT: DDB MEXICO SA DE CV "Data Tienda" for Gahr WeCapital
Film: Wolf BKK Thailand "The Air Drummer" for Robinsons Department Store
FILM CRAFT: BBDO Group Germany GmbH "The Glitch" for Alzheimer Forschung Initiative e.V.
THE FUTURE NOW: DDB MEXICO SA DE CV "Data Tienda" for Gahr WeCapital
PACKAGE & PRODUCT DESIGN: TBWA\HAKUHODO Japan "SHELLMET" for Koushi Chemical Industry Co., Ltd.
"SHELLMET is a product that can help clean oceans the more it is produced. This process of creating durable material from discarded shells can also be applied to oysters, mussels, and other seashells. SHELLMET is just the beginning, and other applications of this material are underway as we speak. As global citizens, we are doing our part to contribute toward a sustainable society. Thank you," said Masatoshi Usami, Creative Director, Disruption Lab, TBWA\Hakuhodo.     
PRINT: Promise South Africa "Plan (a)" for AfriSam + BlackStudio
"We are absolutely thrilled and honoured to receive the prestigious Grand Award at NYF.
Not just for our teams, but in the name of African creativity. We love you NY!!!" – Nic Kostouros, Integrated Creative Director, Promise Johannesburg
For 2023 NYF unveiled multiple new categories to honor creativity and salute innovation.
This year, New York Festivals launched the Commerce & Creativity Category in recognition of the powerful role of Commerce in driving creative business transformation. Gold winning work includes Saatchi & Saatchi Düsseldorf "Oreo Cheat Cookies" for Mondelēz Europe/Oreo and multiple Gold-winning campaigns by VMLY&R Commerce including "I See Coke" for Coca-Cola, "Don't Delete Menu" for Wendy's, and "Oreocodes" for Oreo. Silver winning work includes Ogilvy Thailand's "Amazing Thailand. Culture to Commerce" for Tourism Authority of Thailand, Havas Chicago's "The Inheritance Pass" for Yellowstone Forever, and VMLY&R Commerce Mexico's campaign "Beer Badge" for ABInbev. 
Also unveiled for 2023, NYF'IN Funny, a new category created to spotlight campaigns using humor in a big way to engage consumers. Campaigns that struck Gold include SS&K's "OutHorse Your Email" for Business Iceland, McKinney's "Thin Crust Summer" for Lil Caesars, and Mischief's "Winner Winner Chicken Dinner" for FanDuel Casino. 
The new category, NYF AutoShow honors automotive advertising that is breaking new ground and driving ROI for auto brands. VMLY&R New York earned Gold for "Tell Me Everything" for Ford. Silver winning work includes TBWA\BOLT Shanghai, TBWA\Juice Beijing's campaign "Translating Joy" for BMW and Leo Burnett Detroit's "BUICK #SeeHerGreatness" for Buick.
View NYF Advertising Awards Best of Show and Grand Award Winners Reel: HERE.


Stay Tuned for the 2023 NYF Special Industry Award-winners announcement coming soon. 
For more information on the 2023 New York Festivals Advertising Awards and to view winner's showcase visit HERE.
The New York Festivals Advertising Awards competition receives entries from more than 60 countries worldwide and is judged by an international jury of more than 400+ members of NYF's Executive Jury and Grand Jury. New York Festivals jury panels collectively cast their votes to select the year's trophy-winning work.
About New York Festivals:  New York Festivals® Celebrating the World's Best Work since 1957
Advertising Awards
AME Awards ®
Bowery Awards
NYF Health Awards ®
Radio Awards
TV & Film Awards
Entries to each of the competitions are judged around the world by panels of peers in their respective industries. For more information, go to www.newyorkfestivals.com.
Contact New York Festivals: Gayle.Mandel@NewYorkFestivals.com