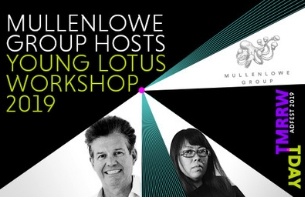 ADFEST announces that MullenLowe Group will host the 2019 Young Lotus Workshop, a two-and-a-half-day workshop for ambitious young creative teams from the Asia Pacific and Middle East.
The Young Lotus Workshop is one of the industry's longest-running mentoring programs designed to give the next generation of advertising leaders hands-on, practical experience. The program is open to advertising professionals aged 30 and under, with teams selected by local representatives in markets across the region.The first half of the program consists of talks, mentoring and workshops led by an elite group of MullenLowe Group's leading creative, as well as strategy, analytics and technology experts. The young creative teams will also receive a real brief for a real client – with just 24 hours to meet the deadline.
MullenLowe Group's Asia Pacific CEO, Vincent Digonnet will be next year's Young Lotus Chairman, with Leigh Reyes, President and Chief Creative Officer of MullenLowe Philippines, leading a team of mentors from MullenLowe Group offices across the region including Japan, Singapore, Indonesia and the Philippines.Each mentor comes from a distinct specialism across MullenLowe Group – including data science and analytics, experience design and digital strategy – and is designed to challenge each Young Lotus team to use a variety of disciplines and channels to solve the client brief.
Mentors include:
Vincent Digonnet – CEO, MullenLowe Group APAC
Leigh Reyes – President & Chief Creative Officer, MullenLowe Philippines
Jonny Stark – Chief Strategy Officer, MullenLowe Group APAC
Jonathan Hart – Head of MullenLowe Group APAC's Data Science and Analytics Centre of Excellence
Mark Haycock – Group Digital Strategy Director, MullenLowe Profero Singapore
Zélia Sakhi – Head of Experience, MullenLowe Profero Japan
Vincent Digonnet commented on the skills that future creative talent needs to bring to the industry: "The next generation of creative talent needs to understand the critical relationship between creative, technology and data in order to produce work which is based on insights and real-world behaviours. This hyperbundled approach is at the core of what we do at MullenLowe Group and I look forward to sharing these ideas with our Young Lotus teams," he said.
"Furthermore, I believe that the best learning experiences don't happen through simulation. As such, we're giving our teams real-world briefs, devised with Google, to immerse them in the most realistic and visceral environment, with the winning idea being launched," he added.
Reyes says next year's Young Lotus participants will learn to take a hyperbundled approach to solving business problems. "I can't give the brief away yet, but suffice to say, next year's teams will broaden their skills by creating multidisciplinary ideas that involve anything from creative to media, digital, PR, data and social media," she says.
"This is the first time MullenLowe Group has led the Young Lotus Workshop and I can't wait to mentor next year's teams. Asia is a powerhouse of innovation so I know they'll bring amazing ideas to the table – it's our role to give them powerful strategies for creating ideas that deliver an unfair share of attention."
Jimmy Lam, President of ADFEST, says: "We're so glad to have MullenLowe take on the Young Lotus Workshop next year. It's one of our longest running and most popular programs – it is not often young creatives have the chance to accelerate their careers by working hands-on with leaders like Vincent, Leigh and their colleagues across MullenLowe Group."
After responding to MullenLowe Group's brief, the top Young Lotus finalist teams will present their work on stage during ADFEST 2019, which runs from Wednesday 20th March to Saturday 23rd March. The winners of both the Young Lotus and the Popular Vote will be revealed at the ADFEST 2019 Lotus Awards.
If you are interested in taking part in the Young Lotus Workshop, contact YoungLotus@ADFEST.com
About MullenLowe Group
MullenLowe Group is a creatively driven integrated marketing communications network with a strong entrepreneurial heritage and challenger mentality. We are a global creative boutique of distinctive diverse agencies, rich in local culture with both intimacy and scale, present in more than 65 markets with over 90 agencies. With a hyperbundled operating model, global specialisms include expertise in brand strategy, and through the line advertising with MullenLowe; digital transformation with MullenLowe Profero; media and communications planning and buying with MullenLowe Mediahub; customer experience activation with MullenLowe Open; and consumer and corporate PR with MullenLowe PR and MullenLowe salt. We are focused on delivering an Unfair Share of Attention for our clients' brands and are consistently ranked among the most awarded creative and effective agency networks in the world. We have topped the Effie Index as the most effective global network in terms of points per dollar revenue for the past eight consecutive years, and in 2018 were named to the Ad Age Agency A-List.
MullenLowe Group is part of the Interpublic Group of Companies (NYSE: IPG).
For more information, visit us at www.mullenlowegroup.com or follow MullenLowe Group on Twitter @MullenLoweGroup and on Facebook.com/MullenLoweGroup.