Blockchain in Advertising, Communications & Marketing" – M2 – Marketing & Media event on March 6th / Tuesday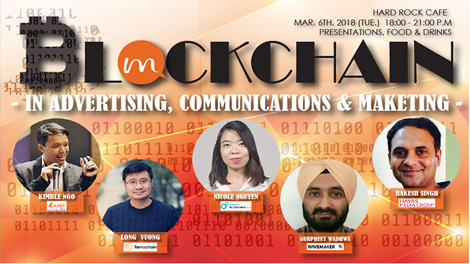 Mar 6th (Tuesday)
Hard Rock Cafe / 6:00pm ~ 9:00pm

• Register and pay now: 250.000 VNĐ
• Register and pay later: 350.000 VNĐ
• Pay at the door: 400.000 VNĐ
Blockchain in Advertising, Communications & Marketing
"Blockchain may have a bigger impact than "anything" marketers have encountered since the advent of the internet. Blockchain applications will create entirely new solutions to marketers' challenges, while other applications will aim to solve problems in ways that are arguably more impervious to fraud, more reliable, or better in some other way."
Advertising Age – October 2017
6 Ways Blockchain will change Advertising, Communications & Marketing
1. Verify ad delivery, confirming that a real person saw the ad – verify engagement with the performance of any ads that are delivered and prevent the ad from being over served while ensuring optimal frequency
2. Pay publishers, tech companies, agencies and others who should be compensated for the creation, delivery or performance of ads
3. Allow advertisers and publishers to directly negotiate on advertising prices reducing agencies, and media companies while providing greater transparency
4. Reward and pay consumers for the use of their data including personally identifiable information, interests and purchase plans and give them a transparent look at how their data is used by the advertiser
5. Reward and pay consumers for contributing new content to an advertiser's campaign and for the use of the content they have created related to the brand
6. Verify that influencers are really influencers and that they meet the marketer's criteria and that followers are real people and not bots
This is just the beginning! The internet in 1994 was America Online and for most brands, companies and people, nothing else. Few people or companies had dreamed of search engines, social networks or smartphones and all of the applications that have been created through the internet. Today, blockchain means little more than Bitcoin for most people who have hard of it.
The applications are coming, and marketing will never be the same!
To learn where advertising agencies, brands, digital companies and media companies in Vietnam are in the blockchain era, and how the are using "Blockchain in Advertising, Communications & Marketing" join us at our M2 – Marketing & Media event on March 6th / Tuesday.
This event is being co-organized by "Vietnam Blockchain Week" and is a special event created specifically for people in advertising, communications and marketing. Our speakers will be:
FEATURED SPEAKERS

Kimble Ngo
ICO advisor, AmpMarketing Blockchain, Amblockchain.co
Kimble Ngo is the ICO advisor, AmpMarketing Blockchain at Amblockchain.co. His mission is to help Brands and Advertising Agencies create magic for their clients. A recent client campaign won the "Best in Show" award at the Mobile Marketing Association's SMARTIES VIETNAM 2016.
As well as Kyanon, Kimble founded Amplify Influence and The Modern Day Warrior. His work helps Senior Executives, IT analyst, Sales Staff, and entrepreneurs "Kick Butt" in their career and business. It is a mix of Competency and Character Skills development, with a heavy dose of mindset management.

Nicole Nguyen
Chief Marketing Officer, Infinity Blockchain Labs (HCMC)
Nicole Nguyen has years of experience working in sales and marketing for multinational companies, NGO and multinational institutions such as Asian Development Bank and World Bank.
Nicole has well-rounded experiences in both business and social realms within multinational environments. She was a speaker at major Blockchain events including Blockfin Asia, Shanghai Blockchain Week, World Bank/IFC event themed Blockchain transforms Global Supply Chain and Trade Finances and Seamless Asia 2017.
She is the author of the #1 Vietnam Blockchain Landscape Report and she is an organizer of the Vietnam Blockchain Hackathon in 2017, organizer of the ENIGMA Vietnam blockchain contest and the organizer of Vietnam Blockchain Week 2018.
As the head of marketing at Infinity Blockchain Labs, Nicole is entrusted to work with multinational institutions such as the Asian Development Bank, Unilever Vietnam and the World Bank and to leverage her understanding and extensive network to develop the blockchain and tech startup ecosystem in Vietnam with the goal to transform the Vietnam into the leading Blockchain hub in the region.

Rakesh Singh
Managing Director, Havas Media Vietnam
Rakesh Singh is the Managing Director of Havas Media, Vietnam. He moved to Vietnam after a 3-1/2 year stint with Omnicom in West & Central Africa. He started his career in media industry in 1999 and has 17+ years of rich experience with leading media agency groups including Group M, Omicom and Publicis.
Rakesh's experience spreads across Strategic Integrated Media Planning & Solutions & New Business Development, with Leadership & Team Management roles across the APAC & West Africa Markets. He has an exceptional track record of operational excellence in communications planning and he is a winner of prestigious media awards like Goa Fest, Emvies, India and the Global BP Media Innovations awards.

Long Vuong
CEO – Tomoapps
Long Vuong is the Founder and CEO of Tomochain in Hanoi. He is an academic who studied economics at the International Institute of Social Studies and was a former Researcher and PhD candidate at the University of Massachusetts Amherst.
Long started studying both blockchain and bitcoin in 2013 and then co-founded NEM blockchain in 2014. The Tomo project was started in late 2016 and began development of the Tomoapp and Tomochain ledger in January 2017.
The goal of Tomochain is to be a leading company in building the Internet of Value, designing its infrastructure and working to create an alternative financial system which is more secure, transparent, efficient, inclusive and equitable for everyone.
In addition to financial services, Tomochain is advising Vietnamese brands and FMCG companies to understand the applications of blockchain technology to database marketing, influencer marketing, and social network marketing to their industries.

Gurpreet Wadhwa
Head of Digital, Wavemaker
Gurpreet Wadhwa is the Head of Digital at Wavemaker and he has more than 12 years of work experience. He came to Vietnam in 2016 to join MEC, a Group M / WPP agency which became "Wavemaker" in 2017. Wavemaker is a billion dollar-revenue next generation agency that sits at the intersection of media, content and technology.
Gurpreet has more than 13-years of agency experience including Maxus / Group M in India. He played the key role in creating India's first crowd source mapping application for digital start-up MAD and has worked with a variety of clients including Eicher Motors, Hero MotoCorp, HT Media, Panasonic India, Perfetti van Melle, Pernod Ricard and Volvo automobiles.
His areas of expertise include Digital Media Strategy, Planning & Media Buying; Business Development, Sales and Talent Acquisition. As head of digital at Wavemaker, his focus is to lead the digital team in developing the digital strength of the agency and bring new thinking and capability to clients in Vietnam.
Mar 6th
Hard Rock Cafe
6:00pm – 9:00pm

• Register and pay now: 250.000 VNĐ
• Register and pay later: 350.000 VNĐ
• Pay at the door: 400.000 VNĐ

---
---
Copyright © 2014 – 2018 VietnamBusiness.TV , All rights reserved
Mr. Kerry Kennedy | E: kennedy.itvasia@gmail.com
Ms. Ely Pham | E: ely.itvasia@gmail.com