CHEIL WORLDWIDE'S WAIN CHOI TO CHAIR
ADFEST 2017'S YOUNG LOTUS WORKSHOP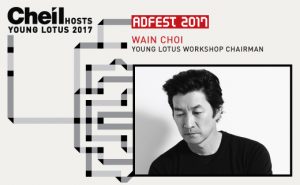 ADFEST is pleased to announce that one of South Korea's most celebrated advertising executives, Wain Choi of Cheil Worldwide, will be Chairman of ADFEST 2017's Young Lotus Workshop.
This year, 16 teams from 16 cities will participate in the Young Lotus Workshop, which is a mentoring program for up-and-coming creative professionals. Every year, a different advertising network hosts the workshop, and this year leading executives from Cheil Worldwide will share their knowledge from Monday 20th March to Wednesday 22nd March, after which the young creatives will join ADFEST 2017 to hear from more inspiring speakers.
The 2017 Young Lotus teams are:
Bangkok:  Chirathorn Chiraratsakul and Peeraya  Apirachkul (Dentsu Thailand)
Beijing: Yanchao Qu and Zhen Tan (Cheil China)
Colombo: Natasha Fernando and Randula  De Silva (Neo@Ogilvy)
Dhaka: Anamika Khan Shipra and Taskin Anha (Mattra)
Ho Chi Minh: Anh Thu Thi Le and Tram Le (Clipper Indochine Co Ltd)
Hong Kong: Naomi Lam and Nikki Palomaria (BBDO Hong Kong)
Jakarta: Gerry Admiralindo and Wedhatama Pertiwi (J. Walter Thompson Jakarta)
Kathmandu: Saroj Maharjan and Yajaswi Shakya (Outreach Nepal Pvt. Ltd.)
Kuala Lumpur: Jaz Lee Jun Chieh and Juliana Le Mei Yen (Leo Burnett Malaysia)
Manila: Isabela Martinez and Eira Gemanil (BBDO Guerrero)
Melbourne: Alex Walding and Sophie Beard (BWM Dentsu)
Mumbai: Rahil Shah and Saurav Das (Ogilvy & Mather)
Seoul: Jeehyun Park and Minhee Joung (Cheil Worldwide)
Singapore: Augustus Sung (Ogilvy & Mather Singapore) and Sen Chong Alex Tan (MullenLowe Singapore)
Taipei: Chih-Ting Chen and Fan Yu Lai (Ogilvy Taiwan)
Tokyo: Sayo Noda and Shun Akeda (Hakuhodo Inc.)
Choi joined Cheil Worldwide in 2010 where he is now Senior Vice President and Chief Creative Officer.
Cheil is famous for its award-winning campaigns for Samsung, and Choi has been spearheading campaigns under the "Launching People" platform — a global initiative by Samsung to help unleash people's full potential with technology. The "Look at Me" app to help autistic kids communicate received many international creative accolades, and the "#BeFearless" campaign encouraging people to overcome their common fears with a free VR training app will continue to expand its program this year.
"I'm looking forward to being Chairman of the Young Lotus Workshop. I am a firm believer that the future of our industry depends on encouraging young, passionate people to pursue a career in our industry, and I hope to share some of the wisdom I've gleaned over the course of my career," says Choi.
Following their workshops with Cheil Worldwide, the Young Lotus teams will have 24 hours to respond to a client "brief". The best teams will present their ideas on stage at ADFEST on Saturday 25th March in a session called 'Cheil Worldwide Presents Young Lotus 2017: Create with a Swagger'. 
Vinit Suraphongchai, Chairman of ADFEST, says: "We held the first Young Lotus workshop in 2004, and today it remains one of the only mentoring programs for young people to come together to learn from the world's top creatives.  I'd like to thank Cheil Worldwide for hosting this year's Young Lotus Workshop, which is always one of the highlights of our festival."
ADFEST 2017 will take place 22nd – 25th March 2017 at the Royal Cliff Hotels Group in Pattaya, Thailand. For more information, visit www.ADFEST.com
Click here to download word document
Click here to download PR photo
Ends
HEAD OF PR
Ms. Sara Fielding
Email: Sara@ADFEST.com
EDITOR
Ms. Barbara Messer
Email: Barbara@ADFEST.com
 Sources: AdFest