Fifteen teams from 15 cities will participate in the Young Lotus workshop at ADFEST 2018 – including the first team from Cairo, ADFEST has announced.
ADK has come on board to mentor this year's teams from Bangkok, Cairo, Colombo, Dhaka, Ho Chi Minh, Hong Kong, Jakarta, Kuala Lumpur, Manila, Mumbai, Seoul, Shanghai, Singapore, Taipei and Tokyo.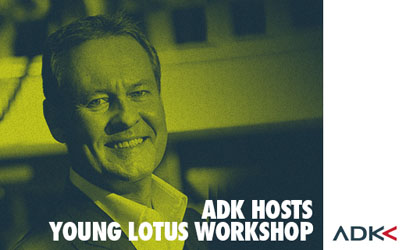 "Young Lotus is one of the few mentoring programs that gives young creatives the chance to step out of their comfort zone to be mentored by the world's best advertising leaders," says Jimmy Lam, President of ADFEST. "It's always a tough, yet incredibly rewarding experience for the participants, and it's one of the programs we're most proud of ADFEST. This is the first year ever we will have a team from Cairo participating in the Young Lotus workshop, which is another milestone for us."
The theme of ADK's Workshop will be "You Are What You Consume", making sure that the new wave of creators are ready for the reality of what's next. On Monday 19th March, 30 up-and-coming advertising executives will enjoy sessions presented by global executives at ADK, led by Rob Sherlock, Chairman of ADK Global, based in Singapore, who is Chairman of the 2018 Young Lotus Workshop.
On Tuesday, the teams will face one of the toughest challenges of their career to date: a 'brief' with a 24-hour deadline.
The next day, ADK's mentors will review their work and select finalist teams, who will present their ideas live on stage at a session called, 'ADK Presents Young Lotus 2018: You Are What You Consume', hosted by Rob Sherlock , Chairman, ADK Global on Saturday 24th March at 11:30. ADFEST delegates will be invited to vote for the Popular Vote winner, and all winners will be announced at the ADFEST Lotus Awards later that night.
"One thing that particularly excites me is that we have a truly diverse Workshop Committee with eight mentors in total from five countries. Together, we are looking forward to running a transformational Young Lotus Workshop," says Sherlock.
ADK is a global network whose philosophy is to "create ideas that move people, create actions that move products off shelves, and create stories that move communities forward". It was the first agency to expand out of Japan, and is passionate about transformation, collaboration and growth.
ADFEST 2018 will run over four days from 21-24 March at the Royal Cliff Hotels Group in Pattaya, Thailand. Visit www.ADFEST.com
YOUNG LOTUS TEAMS 2018
Bangkok: Dethritt Limsiriphan, Art Director and Thananwatch Vipassuwan, Copywriter (TBWA\Thailand)
Cairo: Omar  Radwan, Copywriter and Sherif Fouad, Art Director (FP7/CAI)
Colombo: Akila Abdul Azeez, Senior Art Director and Minendra Sarathchandra, Junior Account Manager (J. Walter Thompson Sri Lanka)
Dhaka: Anamika Khan Shipra, Graphic Designer and Taskin Anha, Copywriter (Mattra)
Ho Chi Minh: Quan Tran Anh, Creative, Art & Web Executive and Quan Trung Nguyen, Copywriter (VietnamMarcom Asia)
Hong Kong: Wing Chun David Tam, Copywriter and Ming Yeung Chan, Assistant Art Director (Havas Hong Kong)
Jakarta: Feby Elsadiora, Art Director and Rahmi Amelia, Graphic Designer (Iris Worldwide Indonesia)
Kuala Lumpur: Cassie Si Hui Ng, Digital Art Director and Nicole Sue Yie Ling Tan, Junior Art Director (Y&R Malaysia)
Manila: Bernard Paolo Arco, Copywriter and Ronagella Gesultura, Art Director (Campaigns & Grey, Inc.)
Mumbai: Adith Francis Mili Fernandes, Copywriter and Ketan Sudhir Kadam, Art Director (FCB Interface)
Seoul: Hyunjin Kang, Copywriter and Inkyung Jang, Art Director (Cheil Worldwide)
Shanghai: Cynthia Subrata, Art Director and Neo Chan, Copywriter (Saatchi & Saatchi Shanghai)
Singapore: Lena Paik, Copywriter and Raquel Ang, Art Director (TBWA\Singapore)
Taipei: Kuen-Ting Tsai, Copywriter and Ya-Ting Chien, Copywriter (J. Walter Thompson Taipei)
Tokyo: Kana Kikuchi, Art Director (BBDO Japan) and Yukina Oshibe, Copywriter (I&S BBDO)