WPP Earns Top Three Industry Awards in 2023 New York Festivals Advertising Awards: WPP Awarded Holding Company of the Year, VMLY&R – Agency Network of the Year, VMLY&R Commerce US – Agency of the Year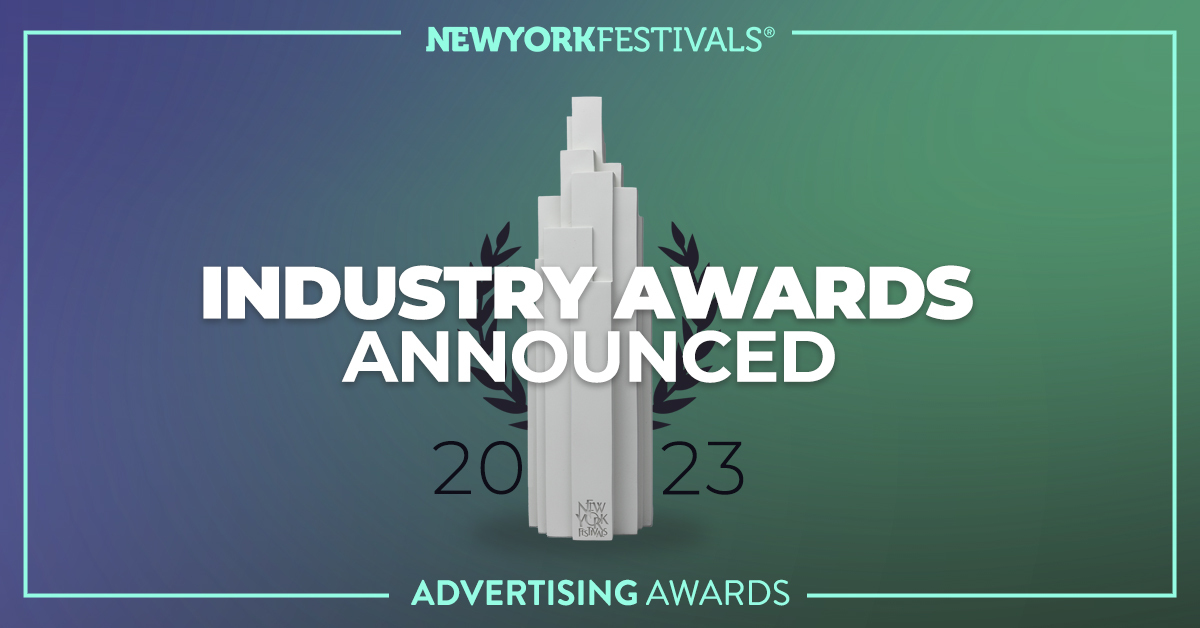 OREO Crowned Global Brand of the Year, fischerAppelet is PR Agency of the Year, and Ladoble Earns Film Production Company of the Year
New York, NY – August 1, 2023:  New York Festivals® Advertising Awards announced the 2023 Industry Award recipients.
The New York Festivals Industry Awards honors those companies whose multi-award winning campaigns demonstrate innovation and creativity. This honor is the ultimate recognition celebrating holding companies, networks, and agencies whose cutting edge work has not only inspired and engaged consumers but also fostered brand affinity.
The 2023 Industry Award recipients are determined by the number of top-scoring entries that earn trophies within the competitions based on scores determined by the New York Festivals 2023 Executive Jury. These award-winning companies have set new standards in the industry and left a lasting impact on the advertising and communications world.
Agency of the Year – VMLY&R Commerce US
VMLY&R Commerce US was honored with the prestigious Agency of the Year Award for their campaign "Oreocodes" created for the iconic cookie brand OREO. This exceptional entry also earned VMLY&R Commerce the distinguished Grand Award along with an impressive haul of Gold, Silver, and Bronze trophies for their innovative work.
In addition, VMLY&R Commerce US earned multi New York Festivals Gold Awards for prominent clients including Coca-Cola and Wendy's. The Agency of the Year title is awarded to an advertising agency that earns the highest score for outstanding creative work across all mediums.
"It's an incredible moment for our agency teams and clients to receive this level of recognition. Our collective ambition has been to lead the industry in realizing the creative potential in commerce.  Seeing our work elevated to the global stage, and celebrated across categories, validates the power of creative commerce in driving brand experience and business impact" –Manuel Bordé, Global Chief Creative Office, VMLY&R Commerce
Global Agency Network of the Year – VMLY&R
VMLY&R was recognized as the 2023 Global Network of the Year for their outstanding achievements within the advertising industry on a global scale. This esteemed award recognizes the advertising agency network that achieves the highest score for its entries in all mediums and produces the highest caliber of top scoring creative work across all of its agencies within the competition.
"We're honored and humbled by this recognition from New York Festivals as Network of the Year (VMLY&R) and Agency of the Year (VMLY&R Commerce). I'm happy to celebrate this smart, innovative work — work that takes tremendous effort, not to mention the partnership of great clients. It's also incredible to have the growth of Commerce recognized, as we push for all the amazing ways creativity can being leveraged to turn buying moments into memorable and impactful brand experiences." –Debbi Vandeven, Global Chief Creative Officer at VMLY&R
Global Brand of the Year – OREO
OREO, the iconic cookie brand and one of Mondelez International's brands was awarded the esteemed Global Brand of the Year. This prestigious honor recognizes a brand that excels across all mediums, earning the highest score for its outstanding campaigns and distinguishes itself through innovative and creative marketing while demonstrating effective communications.
Celebrating exceptional achievements with the competition, this impressive global brand has earned 2 Grand Awards for top scoring campaigns. "Oreocodes" earned the New York Festivals Grand Award in the Commerce & Creativity category. This captivating campaign created by VMLY&R Commerce US leverages the resemblance between barcodes and a stack of OREO cookies, and provided consumers with exclusive OREO offers.
Saatchi and Saatchi Düsseldorf Germany's groundbreaking campaign "OREO Cheat Cookies" has earned the prestigious Grand Award in the Collaborations & Partnerships category for Mondelez Europe. This trailblazing campaign showcased an innovative collaboration between OREO and Xbox, elevating brand storytelling to new heights.
"Our exceptionally talented teams love to create opportunities for our fans to share in the playful OREO spirit and these campaigns are two of the many illustrations of their commitment to the brand," said Nicolas Henault, Director Oreo. "I am immensely proud of what we have accomplished together around the world to bring OREO to our consumers."
Holding Company of the Year – WPP
For the second consecutive year WPP has been crowned Holding Company of the Year. This distinguished award acknowledges the holding company that has earned the highest combined score for all entries in all mediums, based on the collective points earned across its extensive network and agencies.
"It's an honor for WPP to be named New York Festivals Holding Company of the Year and a real testament to the excellent work created by our agencies. I couldn't be more proud to be part of an organization that continuously pushes the boundaries of what and where creativity and innovation can happen."  –Rob Reilly, WPP's Global Chief Creative Officer
Public Relations Agency of the Year – fischerAppelt, relations Germany
fischerAppelt, relations GmbH, Germany's leading content marketing & PR agency earned the inaugural Public Relations Agency of the Year Award. Their exceptional work, together with Philipp und Keuntje, has set new benchmarks in the field of public relations. Award-winning campaigns, including "The Homeless Gallery" for Hamburger Kunsthalle / Hinz&Kunzt, "H.A.N.S. – The Hateful Audio Notification Service" for cake / Laut gegen Nazis, and "THE RISE" for growney, showcase their creativity, innovation, and impact with the industry.
This exciting new award provides agencies with the opportunity to enter the PR Company that is associated with their campaign. This distinguished honor is based on the total number medal counts for all works attributed to the PR company and the top-scoring PR company is declared PR Agency of the Year.
"I firmly believe creativity is a superpower that we should use more often to shape our world and to make it a more sustainable, compassionate, friendly, inspiring, and nourishing place for all. At fischerAppelt, we feel that our interconnected collaboration is key in supporting creativity with this task. And that's the beauty and the strength of the different entities that comprise our group," said Diether Kerner, Chief Creative Officer, fischerAppelt.
Film Production Company of the Year – Ladoble
Ladoble Mexico was in the spotlight earning the distinguished Film Production Company of the Year Award for their stunning 4 Grand Trophy winning campaign work for DDB Mexico's "Data Tienda" for client Gahr WeCapital.
Ladoble's creative work for DDB Mexico also earned an impressive haul of 5 Gold Towers, 2 Silver, and 1 Bronze. The New York Festival Film Production Company of the Year Award celebrates excellence in filmmaking and is awarded based on the total points earned, irrespective of whether the entries were submitted by the production company, advertising agency, or a third party.
"We are very happy and grateful because we have received such an important recognition in our first participation in the New York Festivals awards. I want to first of all thank the whole organization; To Diego Mimo Ortiz who gave us the opportunity to share our way of working; to the people of Data Tienda who trusted us, and to the entire crew of Ladoble who made the production and magic happen every day," said José Arnal, CEO, Partner, and Founder of Ladoble.
For more information on the 2023 New York Festivals Advertising Awards and to view the 2023 winner's showcase visit HERE.
The New York Festivals Advertising Awards competition receives entries from more than 60 countries worldwide and is judged by an international jury of more than 400+ members of NYF's Executive Jury and Grand Jury. New York Festivals jury panels collectively cast their votes to select the year's trophy-winning work.
About New York Festivals:  New York Festivals® Celebrating the World's Best Work since 1957
Advertising Awards
AME Awards ®
Bowery Awards
NYF Health Awards ®
Radio Awards
TV & Film Awards
Entries to each of the competitions are judged around the world by panels of peers in their respective industries. For more information, go to www.newyorkfestivals.com.
Contact New York Festivals: Gayle.Mandel@NewYorkFestivals.com