ADFEST 2017 "20 Years of Diversity" – WRAP UP Dentsu Inc., Tokyo Wins Agency of the Year and Interactive Agency of the Year Dentsu is Network of the Year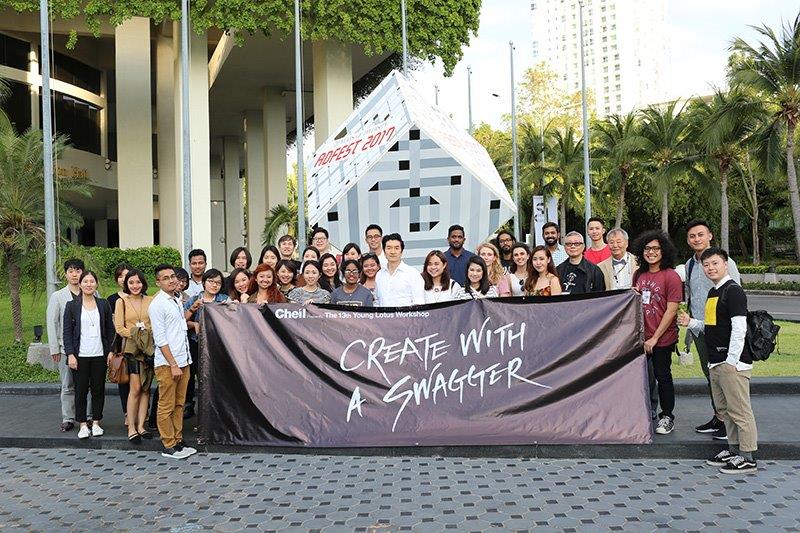 PATTAYA, 25 March 2017:
ADFEST 2017 SPECIAL AWARDS 
Completing the ADFEST Lotus Awards tally on the final night of ADFEST 2017, the Special Awards aim to recognize outstanding agencies, production companies and advertisers and are compiled from the tally of ADFEST Lotus Awards won during the festival.
Dentsu Inc., Tokyo. was on the podium twice to accept Agency of the Year and Interactive Agency of the Year for 2017.
Dentsu was also named Network of the Year. The group of eleven offices includes agencies in Bangkok, Ho Chi Minh City, Manila, Mumbai, Nagoya, Singapore and Tokyo,
The Special Award for Independent Agency of the Year went to CJ WORX from Bangkok.
Direct & Promo Agency of the Year was awarded to BBDO Bangkok.
Production Company of the Year was awarded to ALT.VFX Brisbane
Advertiser of the Year was presented to Samsung.
LOTUS GRANDE FOR HUMANITY
Work submitted for Public Services & Cause Appeals in the Lotus Awards is not eligible to win Grande Lotus in the main Lotus Award categories. Instead, ADFEST has created The Lotus Grande for Humanity to recognize creative excellence in this sector.
This Special Award can be given out to work winning Gold Lotus for Public Services & Cause Appeals in the Film, Press, Outdoor, Radio, Interactive, Mobile, Direct, Promo, Design and Media Lotus Categories and to winners in the Public Services and Cause Appeals category for Branded Content & Entertainment, Effective, Integrated and Innova Lotus,
The agency selected to win this prestigious award at ADFEST 2017 was Clemenger BBDO Wellington for NZ Transport Agency "Hello" in the Interactive category.
A summary of statistics for ADFEST 2017 Lotus Awards entries available to download at the Press Center on festival website www.ADFEST.com
LOTUS LEGEND
Suthisak Sucharittanonta, Chairman and Chief Creative Officer of BBDO Bangkok has been awarded the Lotus Legend at ADFEST: 20 Years of Diversity 2017.  He is one of the most awarded creatives in Asia. Only last year, he was named Southeast Asia Creative of the Year 2016 by Campaign Asia. His works have won acclaim at the most prestigious award competitions around the world, including Cannes Lions, Clio Awards, One Show and D&AD as well as many successes at ADFEST.
Suthisak started his career as a freelance photographer in 1980, until he joined Dentsu Thailand as a visualizer and Art Director in 1984. In 1987, he joined Ogilvy & Mather Thailand where he worked as both Art Director and Copywriter until he was promoted to be Head of Creative at Results Advertising Thailand, an offshoot agency of Ogilvy.
In 1999, Suthisak joined BBDO Bangkok and has been a member of the BBDO Worldwide Creative Committee since 2004. That same year, he was elected into the Bangkok Art Directors Association Hall of Fame.
Under his leadership, BBDO Bangkok's creative award recognition has reached an all-time high. Suthisak made history by receiving Thailand's first Cannes Film Gold Lion award in 2003 and in 2004 ranked 8th in GUNN Report's World's Most Awarded Agency rankings.
For the past 2 consecutive years, BBDO Bangkok has been named Agency of The Year and in 2016 also Digital Agency of The Year, and has been ranked No. 1 creative agency in Thailand by The Gunn Report for 3 consecutive years.
Lotus Legend is nominated by all 56 Juries of this year's Lotus Awards, where they were asked to put forward one creative contender, either previously or currently active in the advertising and communication industry of Asia Pacific or Middle East region. He or she must have achieved creative excellence whilst working in those regions, as well as being a role model to new creative generations.
As the twentieth ADFEST draws to a close on the eve of Saturday, 25th March 2017, Vinit Suraphongchai, Chairman of ADFEST reflects on the legacy of his original vision. He says, "Our objectives when we launched ADFEST were to raise the standard of creativity in advertising and to encourage greater use of the region's own heritage and culture. Today, local heritage is alive and well and recognized through our special Lotus Roots Award."
"ADFEST is not just an award show, it is much more than that. It is a festival of learning, providing rich content about advances in production technology and the progress of advertising in the region, as well as a place for friends and different cultures to come together and share their experiences. We look forward to welcoming everyone here again in 2018 for our twenty-first party!"
ADFEST 2017 "20 Years of Diversity" takes place from 22nd – 25th March, 2017 at PEACH, Royal Cliff Hotels Group, Pattaya, Thailand.
Join us in celebrating the rich diversity in creativity by following #ADFEST2017
#20YEARSOFDIVERSITY on Facebook, Twitter and Instagram now!
Access ADFEST Connect online at www.adfest.com/adfest_connect.php or through the ADFEST App (iOS, Android).
Click here to download word document
Click here to download PR photo
HEAD OF PR
Ms. Sara Fielding
Email: Sara@ADFEST.com
EDITOR
Ms. Barbara Messer
Email: Barbara@ADFEST.com