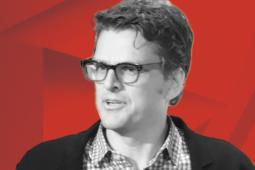 Ben Jones, 48, creative director, Google
Ben Jones is trying to rewire brands' perceptions of how good ads work on digital devices.
The future doesn't have to be all six-second ads, Mr. Jones said, referring to fears that the 30-second TV spot will be squeezed into tighter and tighter windows designed to work online.
For an absurdly long but suggestive exception, just consider the pre-roll ad that Lagavulin ran on YouTube this year, showing comedian Nick Offerman sipping whisky for almost an hour. Mr. Jones' Google's Unskippable Labs was not part of creating the spot, but it's an example of the way creativity can still make advertising great. "We're changing the ways stories work so people choose them," Mr. Jones said, speaking with Ad Age recently in the cafeteria of Google's New York City office. "It's not that all ads are bad. Bad ads are bad."
Google's Unskippable Labs studies the science of storytelling and shares its findings with brands and agencies such as AMV BBDO.
"The next creative experience needs to be borne out of YouTube, Snapchat and Instagram," said Jonny Spindler, chief innovation officer at AMV BBDO. "Not inspired by TV in the '50s."
To find those next experiences, Google recently conducted secret tests using 16 versions of a generic commercial that ran across YouTube, gauging the effects of changes in pacing, color, audio on or off, and vertical or horizontal screen orientations.
Despite the ubiquity and influence of vertical video on Snapchat, Google's research found that on YouTube at least, vertical video is not more effective than horizontal presentation.
YouTube also found that commercials viewed with sound on are always more effective. That's one of Facebook's struggles— ads usually play on mute unless a user turns on the audio. (Video on YouTube, including ads, plays with the sound on.)
Superimposing text, adding another dimension to a story also proved effective. That's a technique that Facebook popularized to counter the challenge of muted ads.
But perhaps most importantly, pacing was everything in YouTube's creative tests. The biggest factor influencing performance was the quickness of the cuts and how fast the story unfolded.
"Because of mobile devices, we've become acclimated to taking in information much faster," Mr. Jones said.
That doesn't mean commercials need to be short, he said. They just need to constantly deliver a payoff or some new stimulus. That could change how stories unfold, because people just won't stick around for a long set-up. The punchline can't come at the end, Mr. Jones said.
Google is starting to work with marketers to spread the findings of its research.
Next up, Google is encouraging brands with digital plans to hijack the creative process even earlier, versus relying on re-editing footage shot for TV and hoping it works online. Instead, the teams are planning for digital in the script phase.
It may seem like a small adjustment, but most brands still aren't thinking this way, Mr. Jones said. "You need to bake in and budget digital for every project," he said. "It's not a maybe."
"It's not a maybe."
Erika Lamoreaux, 36, senior director, client partner, TubeMogul
"When was the last time you clicked on a banner ad?" Erika Lamoreaux likes to ask. The answer is you can't remember—and even if you did, nothing much came of it. Outside of search advertising, online marketers have therefore shifted away from the quest for clicks and toward brand-building exercises that are better performed with video.
But video costs more than display, so marketers are also desperate to figure out what's working and what's not. That's hard to do on one platform, much less a video ecosystem that reaches consumers over a dizzying number of routes.
"Attribution is the dirty word in the industry," Ms. Lamoreaux said, referring to marketers' frustrating efforts to understand which parts of ad campaigns have the biggest impacts.
Brands like Hotels.com and T-Mobile are turning to TubeMogul because it straddles important but isolated kingdoms such as Facebook and Snapchat. The company helps clients track video ad campaigns across these platforms and better understand tactical questions such as how often certain creative should be shown to produce a result.
"Our vision is to be agnostic," Ms. Lamoreaux said. "Across any channel, any format, to buy media in the right way to drive branding."
"Our vision is to be agnostic," Ms. Lamoreaux said. "Across any channel, any format, to buy media in the right way to drive branding."
It's no accident that Shashi Seth is focused on location data. He worked with experimental global positioning systems at NASA back in the 1980s.
Today, he is using his expertise in the field to serve location-based ads with scale and precision. "Location is something that is changing the advertising landscape," Mr. Seth said.
Some even argue that location data, an xAd speciality, shows consumer intent even more clearly than online search. "Showing up somewhere says something about intent that is much crisper," Mr. Seth said.
The data also helps brands understand whether ads worked: xAd can tell them when consumers actually visited their stores so brands can compare that with exposure to marketing messages.
Brian Boland, 42, VP-publisher solutions, Facebook
Brian Boland is leading Facebook's charge against an online ad business that it says is rampant with low-quality and fraudulent traffic. Facebook's true power may be revealed by how effective its campaign proves.
The industry is "incredibly efficient at spending money, but not optimized for value," Mr. Boland said.
That's why Facebook is building its own ad network, showing ads on outside publishers based on the same ad data that powers its own properties, starting with its signed-in users.
It's a challenge, particularly because publishers are keen to keep their own sales relationships robust and advertisers want direct lines to their consumers, not a road that always leads through Facebook.
But the social media giant argues that the results for everyone are worth it.
"It's still a work in progress," Mr. Boland said. "We have companies that used to work one way for a decade, and now we're creating opportunities to work a different way."
Radhika Prakash, 34, brand and creative strategist, Pinterest
For marketers, Pinterest sits somewhere between social media and search. It has 150 million people pinning ideas to digital boards on its site, revealing their interests and sharing them with others.
"What we can do is really understand consumers based on what they're doing versus who they are," Radhika Prakash said.
When Burberry wanted to promote its Cat Lashes Mascara, Pinterest used its ad platform to find beauty-minded users and offered a quiz to discover people's makeup habits. Participants were given a customized Pinterest board with makeup tips, tutorials and other content sponsored by Burberry.
Pinterest is also moving further into video and improving its ad targeting with what it calls "act-alike" audiences, with which marketers can reach consumers who behave like ones they've already found.
Lisa Hook, 58, president-CEO, Neustar
Neustar is a growing force in digital marketing technology, but it flies under the radar. It's the data hub for many brands that need insights into the marketplace, insights like who is shopping for a car or what other products a Pepsi drinker typically likes.
But one of its most important functions is data security. CEO Lisa Hook said new technology around online identity, allowing companies to really know who's on the other end of the screen, is key to shutting down certain kinds of attacks.
It's also become a key third-party partner for platforms like Facebook, which need to give brands confidence in their measurements through impartial outside companies. Most recently, Facebook let brands start using Neustar to help marketers understand ads' results on its platform.
It's time for every brand to take ownership of data and get a grip on portability, according to Jennifer Lum. What she means is that marketers need to work with the platforms that give them the most control over the data being generated by consumers, and they need to be able to transfer that data to use it in other places.
Brands are getting better at breaking the containers that can keep customer information isolated in different buckets, such as call center logs, digital content habits and location data. Then they use advanced artificial intelligence to analyze it all and target ads accordingly.
But most big platforms let marketers use their own data to find consumers there—only to
prevent any learning from escaping for application elsewhere. Even without restrictions, the work is complex and challenging.
"This is one of the largest opportunities in marketing," Ms. Lum said.
It's also where Adelphic operates, running a mobile ad platform that can help brands take their data and target ads across devices. Adelphic has worked with brands like BMW and Samsung.
Anneka Gupta, 28, chief product officer, LiveRamp
LiveRamp, one of those companies that just screams "ad tech," is at the forefront of what's being called "people-based" marketing. When a brand is trying to target ads online, LiveRamp is often the data connector behind the scenes.
"There are lot of data silos," said Anneka Gupta. "Where brands collect data from each channel, each interaction point, and it's hard to connect. It's hard to understand who that consumer is across touchpoints."
The company uses email lists and any other data sources to tie a brand's customer list to an actual consumer on the other end of a device. Customer matching is still imperfect, but as it becomes more sophisticated, brands can start to do more to appeal to their customers when they visit online or in store.
"You can know right when a person shows up," Ms. Gupta said. "You can tailor the experience that customer has right from the very first page, without them even having to log in."
Baker Lambert, 35, global data director, TBWA Worldwide
Baker Lambert credits TBWA Worldwide's use of data for its ability to win clients like Intel, Airbnb and Twitter in recent years. "The biggest thing we've done is put data at the center," Mr. Lambert said.
The story he tells brands is not how the agency could make consumers cry over a sentimental bit of creative or some other appeal. These days it's all about proprietary data management platforms that can make sense of every spreadsheet, government database, third-party lists and every social media account.
"It starts with showing clients opportunities found using data," Mr. Lambert said. "Then you build creative ideas off that."
The most innovative marketers in the coming years won't even be human. They'll be artificial intelligence programs guiding decisions by handling data in ways humans could not.
Salesforce in September deployed its first AI-powered product, a program named Einstein. It's not a sales robot or some chat assistant. It is designed to scour both a brand's data and all available information in the marketplace to come up with business opportunities like sales leads.
Einstein can also shape marketers' websites by learning about the habits of each visitor and customizing the experience for different customers. When someone sees a selection of shoes presented on a website, there are increasing odds that artificial intelligence was behind the recommendations.
CORRECTION: An earlier version of this article erroneously identified Brian Boland as VP-ads product at Facebook. He has been the company's VP-publisher solutions since October. Also, Google's Creative Lab was wrongly credited for work done by Google's Unskippable Labs.
Sources: adage.com